Business invoicing Electronic Invoices (EIPP)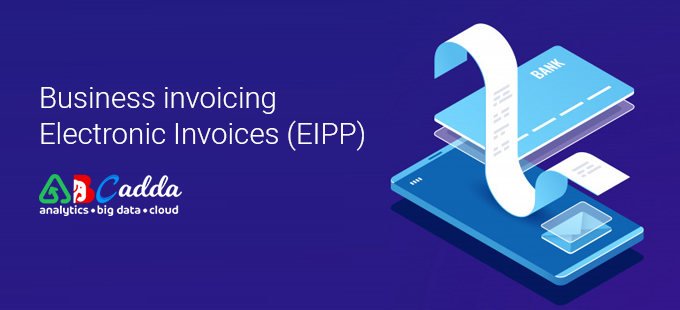 Did you know that 2.4 billion people use the internet every day? This is more than a third of the world's population. Consumers have more control and access to many companies than ever before with online shopping, social media, instant messaging, and 24/7 access to information. Read more about EIPP.
As a result, this type of interaction moves into the inter-company area. With the demand for customized experiences and transactions high, many consumers and businesses today are looking for automated solutions to improve user experience, especially with billing and payment issues.
While this can be challenging for IT departments and teams, the introduction of Electronic Invoice Presentation and Payment (EIPP) has many benefits for businesses. The world of EIPP includes a self-service portal, web-based technology and services and solutions for electronic invoicing.
What is EIPP?
Invoice presentation, also known as electronic invoice or electronic billing, involves sending invoices to customers and suppliers electronically to speed up the payment process. As simple as it sounds, there are many different processes that can be used to present an invoice to a customer or seller, and many ways to pay an invoice.
EIPP is an automated solution for billing and payments from companies to business customers. This is a great tool for reducing operating costs through electronic invoicing that customers can view and select items to pay for.
EIPP is a web-based technology that automates and streamlines business processes and transactions through a self-service portal that has been shown to reduce invoicing. EIPP not only improves cash flow and customer experience, but also reduces customer support costs. In addition, EIPP enables companies to manage relationships with suppliers and customers more effectively, while providing faster access to information.
Why should Business use EIPP for an invoice?
In today's digitally driven era, companies looking to stay one step ahead of the competition must adopt and implement self-service portals to enhance the customer experience, maintain existing relationships, and even reduce costs. Here are some of the most useful aspects of EIPP for business.
Business invoicing can be a time consuming and expensive process. Many businesses, especially small businesses, still create their own invoices, print them, fill out envelopes to be mailed, and then wait for a check or credit card call for payment. After the check is received from the customer, the shop owner must record the payment, reconcile the account, and then leave the store and either leave the check or take the time to process the credit card payment.
All of this creates many opportunities for failure. The more time business owners spend on bookkeeping, which is very important, the less time they spend growing their business and providing customer service. Often they hire someone to take care of all these details, which is another expense.
Electronic Invoicing and Payment (EIPP) provides a solution that increases productivity, reduces errors, and allows business owners to spend more time growing their business and building customer relationships. Some large companies have entire departments devoted to invoicing and accounts receivable only. As technology developed, these large companies spent hundreds of thousands of dollars developing EIPP systems that could direct their employees to sales, management, and cost reduction.
As accounting software became more accessible to small businesses, EIPP became more accessible and accessible. Availability increases with the reliability of the product as Software as a Service (SaaS). EIPP can now connect to most desktop accounting systems, or business owners can use systems that are fully managed over the internet.
The benefits of EIPP or electronic invoicing and payments can be significant in many areas. Let us see!
What are your benefits from EIPP?
Some of the advantages of sending and paying electronic invoices are outlined on this page. Another, less clear, is the environmental side of the EIPP. The amount of paper saved by e-invoicing is phenomenal compared to ordering options.
EIPP is a process where business owners can incorporate automation into their billing process. The process can be integrated with the accounting software itself or used with cloud software. EIPP offers several benefits:
Payees can easily update fields and amounts online based on customer changes
Terms can be imported automatically depending on the customer
Recurring costs can be automated
Payment options can be included in the invoice.
The automation of the system increases the accuracy of invoices, which in turn reduces the possibility of disputes. Invoices will be emailed, sent via a web portal or mobile device, or as part of a recurring fee. If sent as a recurring fee, the payment can be processed automatically. When sending via email or a web portal, payments can be processed immediately through the merchant account or through a payment processor.
Also let us see Emagia EIPP solution:
EIPP solution
About Emagia Enterprise solutions EIPP Cloud offers a self-service customer portal that can be used to handle buyers and suppliers in one network to avoid the hassle of managing cash credits for a large customer base. This system supports many invoice formats and different transmission modes (fax, e-mail, print and letter). The extensive search function allows previous invoices to be saved and retrieved efficiently. The result is faster collection and collection of payments, customer service, profitability and cash flow.
Why companies need Enterprise solutions EIPP
Reduces exclusive sales days (DSO) by 10%. A single network helps customers interact with their customers and shortens the payment cycle.
Reduce billing costs by up to 50%. An efficient system enables self-service by turning manual and intensive billing processes into automated and electronic processes.
Reduce accounting department operating costs by 30%. Disputes before they arise.
Improve customer service and security
Basic Functions of Emagia Enterprise solutions EIPP Cloud
Self-service customer portals offer a central access point to the complete accounting history
Automatic communication of support invoices across various media, including email and fax
Supports proof of delivery, bill of lading and other available invoice documents. Prevents invalid cuts before they are made.
Ability to create return data for quick ledger reconciliation
Seamless integration into ERP and accounting systems allows only accurate and invoice presentation
Conclusion:
There are many options for the EIPP solution. These options range from purchasing software to using your own system, to purchasing services that interact with your current system, or using an internet-based system via cloud computing. As with anything, analyze your business operations to determine which features are most important to you, then look at the many options available to find the best fit.