What are predictive analytics tools?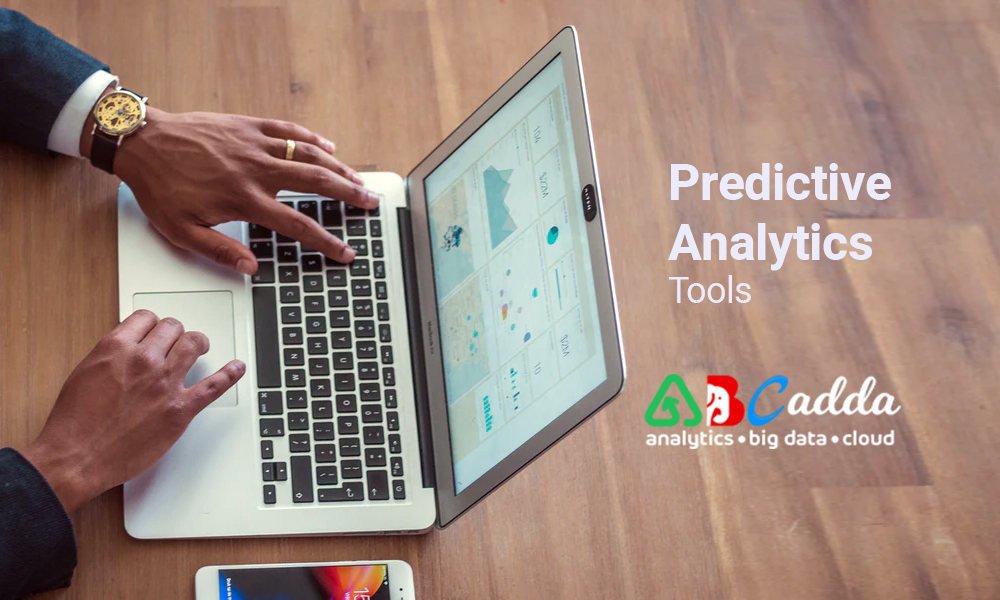 Data analytics plays a very crucial role in our life. Whether it is data analytics, engineer, entrepreneur or data scientist, predictive analytics play a crucial role in our day-to-day job. Predictive analytics can improve the conditions and efficiency in the industry, reduce business risks, detect frauds and meet organisation and customer expectations providing a safety backup against their competitors.
Predictive analytics helps entrepreneurs to reinforce their operations. Predictive analytics can reduce the time needed to collect the data from various sources, filter and process them according to their preferences. It also analyses the information using various advance technology and algorithms. Predictive analytics software has central repositories to store the data and process them in hassle-free interface customisation.
Predictive analytics tools help the business organisation to use big data (real-time and stored) to move from a historical view to future-looking prospectus of the customer. These tools can be employed both on enterprise users as well as on clouds. There is much perspective analytics software available and there are many open source technology exist in predictive analytics. Recent data from predictive analytics shows its integration with ERP systems, Business Intelligence, Machine Learning and other digital analytics software.
To be eligible for the inclusion of predictive analytics category, a product must have:
Here, in this article, we will discuss top predictive analytics tools and softwares available in the market. We will rank them according to their key features such as data management, data visualisation, data meshing, computational power and processing, and real-time analytics capabilities. Let?s discuss them in detail one by one.
1. Sisense
Sisense is the best business intelligence created software designed for all the companies. Sisense is popular for its easy implementation and the full range of business analytics features that can help the business organisation to beat the competitor. It is developed especially to process data preparation and visualisation easy and simple so that business organisation can make better business decisions and intelligent strategies faster than ever. The main advantage of using sense is that it offers to demand no coding, no cluster and minimum IT expertise which make it perfect for users who have no background in programming. There are many famous brands that use a sense for their operations. Some of them are Accenture, WIX, the salvation, GE, NBC, Sony, NASDAQ, and ESPN.
Advantage of using Sisense:
Advance change detection- Sisense uses Machine Learning and Artificial Intelligence to help the business organisation to find the right information even when the data is processed and modified. A user just needs to set various parameter to monitor their data and wait for the results.
Single stack architecture- Sisense robust database help business organisation to manage and review the data however they want. This end to end business intelligence software has an open API framework that helps to customise your platform and deliver the best results.
Core in chip technology- More data the system process, there is the big chance that your system might slow down. But sense uses a core in-chip technology that allows the business to have memory optimise, scalable and have columnar database. This helps the business organisation to join data from multiple sources at the same time.
2. Microsoft R Open
Microsoft R open is an open-source platform that lays more stress on statistical analytics and data science. It is created with the statistical language R-3.5.0, this platform is capable with all packages, scripts and applications that work with different versions of R. This software also provide powerful features and flexible interface with an optional multithreading performance. The best feature of this software is that it can be easily supported on every device. Just download the Microsoft R Open and use it to grow your organisation.
Advantages of using Microsoft R Open:
Multithreaded Math Libraries- Microsoft R Open is designed with multithreaded math libraries that run R operation parallel in the computer and hence reduces the computational times. This help to increase the performance of R without directly linking it with different libraries on your own.
Highly Compatible- Microsoft R Open is also compatible with user interfaces such as Estudios. It offers plenty of other capabilities for data handling, data visualisation, statistical analysis.
Fixed CRAN Repository- Microsoft R Open offer predictability by default so that incompatible R packages aren't installed on the same system. This help to access and share R codes very easily.
3.?Microsoft Azure Machine Learning Studio
Azure Machine learning studio is the best tool for predictive analytics. This is because its simple, scalable system that combines the power of data science and cloud-based tools to help users to create detail reports based on information available. Microsoft Azure Machine Learning Studio is equipped with various API capabilities that help to infuse the model with advanced algorithms and Artificial Intelligence. This is best for small business organisation because it offers a free plan up to 100 modules per experiment or 10 GB storage.
Advantage of using Microsoft Azure Machine Learning Studio:
Custom coding support- Microsoft Azure Machine Learning Studio has a database where developers can easily access a library of Algorithms. This can help to enhance predictive modelling according to your need and demand. It also provides hundreds of built-in packages and custom coding using R or Python.
Drag and Drop Environment- Microsoft Azure Machine Learning Studio has a visual drag and drop authoring environment that does not require coding. You can just use this platform without any worries.
Easy web development- Microsoft Azure Machine Learning Studio is completely accessible via the web so this software does not require any programs to be installed on the system.
4. Oracle Crystal Ball
Oracle crystal ball is a spreadsheet-based software which is used for financial modelling, predictive analytics, simulation and optimisation. It is specially created for CPA, data scientist, engineers, entrepreneurs, marketing managers etc. This software is equipped with advanced optimisation and calculation which help the business organisation to solve complex equations in a few seconds. It offers numbers of tools which allow users to make difficult decisions to stand strong against their competitors.
Advantages of Oracle Crystal Balls:
Monte Carlo simulation- Oracle crystal balls have monte Carlo simulation that automatically calculates and record all the results at the same time. They help the organisation to have a large number of forecasted outputs without spending many efforts for calculations.
Convenient data sharing- Oracle crystal ball make sure that all of your team members are up to date on finding data from your system. It automatically converts data into graphs, charts and other visualisation as per as your requirement. They help to communicate the results more quickly and efficiently.
Robust Business Intelligence tools- Oracle crystal ball help to set up and analyse your models quickly. This software can cover every detail such as two-dimensional simulation, correlation matrix, data analysis, scenario analysis etc.
5. IBM SPSS Predictive Analytics Enterprise
It is a business intelligence platform that is designed especially for the needs of different size and types of the organisation. This software features descriptive and predictive analysis, data automation and data preparation that help to apply statistical analysis on various operational processes. This software will surely help to make all the smart decision for your organisation. IBM SPSS support open source integration that allows amplifying advance projects using R, Python and another programming language.
Advantage of IBM SPSS Predictive Analytics Enterprise:
Intuitive Interface- It is very important that the software can scale up and down as per your needs and requirements. IBM SPSS Predictive Analytics Enterprise initiative and the scalable interface don?t require any further system for scalability. It contains an exclusive library of machine language algorithms and statistical analysis which help to manage tour data smoothly according to your desire.
Multiple Deployment options- IBM SPSS Predictive Analytics Enterprise offer model building, automation capabilities and evaluation that can be accessed in multiple ways. You can have this on your cloud or on your premise as per your need.
Open Source Integration- IBM SPSS Predictive Analytics Enterprise contains all the essential tools needed to perform predictive analysis. Also, you can amplify your analytics projects by using open source integration via R, Python and other programming languages.
6. Minitab
Minitab is the business Intelligence software used to analyse and graph different formats of data for business organisations and medical institutions. It is a great application for statisticians and individuals who don?t have any expertise in statistics. This software helps you to perform predictive analytics very smoothly. Minitab has an annual multi-user plan and pricing package available by quote. They contain free technical support.
Advantages of using Minitab:
Reliable assistant feature- Data reading plays a crucial role in determining areas for improvements in your operations and performance. If you can process this result, you are more likely to come up with an effective solution that will grow your business. With the help of Minitab, you can walk through this process very quickly without having any trouble.
Insight Tools- Minitab contains instant insight tools that ensure your business decisions are based on updated data. This feature automatically displays data on the dashboard so that user don?t have to face any kind of problem while accessing or while making any important conclusion.
Customer Training Options- Minitab offers customer training options that will help you to discover all the basics of statistics and working of predictive analytics. This will help you to get the information about how to carry out data analytics for business organisation and how to use different tools for a different purpose.
7.?Wolfram Mathematica
Wolfram Mathematica is a system designed for modern technical computing and algorithms. It is popular for its powerful technical capabilities and ease of use. It also contains an integrated system that covers the breadth and depth of technical computing. It contains a large number of tools for business intelligence, cloud integration, and for coding language that is easy to read, write and learn. Wolfram Mathematica offers different plans and structure for government agencies, educational institutions and other business organisations.
Advantages of Wolfram Mathematica:
large number of analytics tools- If you want to perform predictive analytics you need a large number of analytics tools. Wolfram Mathematica offers more than 5000 built-in functions which include all areas of technical computing.
Strength capabilities- Wolfram Mathematica has efficient algorithms and robust in nature that can be applied to various fields. It also has industrial strength that can perform simple calculations, operation and management problems.
Compatibility- Wolfram Mathematica help to share data analytics on any system where you wish to apply. Wolfram Mathematica is compatible with more than 180 files format with the different programming language, API databases and devices.
8. SAS Advanced Analytics
SAS advanced is the predictive analytics application that offers exclusive and innovative algorithms to solve all types of complex problems. This program increases the strength and opportunity and built strong competitive advantage, and identify the possibilities of future outcomes based on recent data. It can also be used in data mining, statistical analysis, data simulation, forecasting and data optimisation.
Advantage of SAS Advanced Analytics:
Data Mining- The data collected and displayed by the organisation should be appealing and presented in n organised manner or else reader won?t get the information from the data. SAS Advanced Analytics prepare and display data in dynamic charts and graphs. Thus, it is easy to guess the accurate models and spend less time to analyse new data.
Statistical Analysis Tools- SAS Advanced Analytics software allow the users to analyse the data, sales, operations and other advanced calculations. It also offers quality test before displaying or revealing any important message This way one can analyse the data and predict the future outcomes.
Forecasting solutions- With the help of SAS Advanced analytics, one can perform large scale automatics forecasts. Even without having a prior k knowledge of writing code, one can generate better forecasts with less human interventions. It also has virtually unlimited respiratory that provide better models to solve huge problems.