About fidget toys and Types of Fidgets Toys. 🎁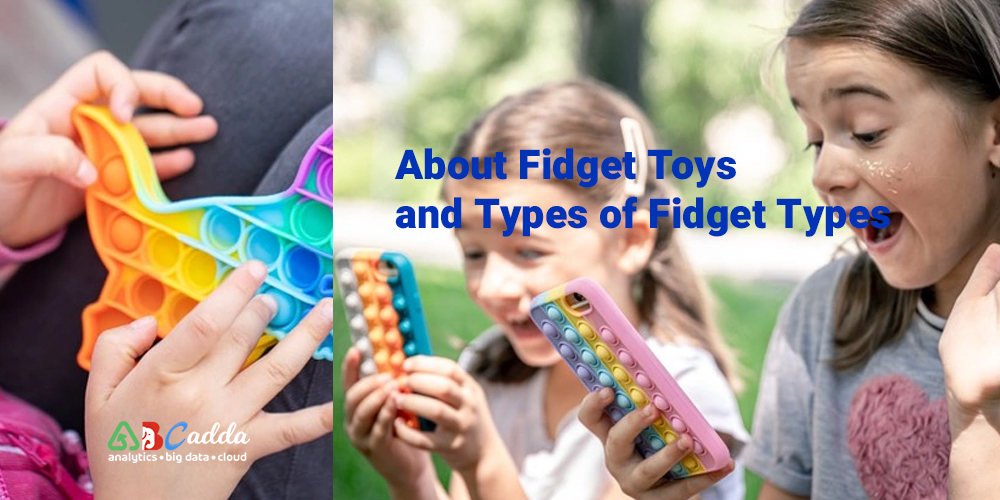 Sitting still can be difficult for people, adults, and children alike. New evidence shows that playing fidget toys with something like a trigger pen or purse can help reduce stress, anxiety, and even help you focus on long tasks! We all wonder what's behind the fidget toy explosion, starting with anxiety, and this science can easily explain it.
We are in a new world where we are often at home. We are constantly sitting at our desks or in front of computers to work, attend meetings and even take part in medical consultations.
While this allowed us to stay safe, it created a new level of fear and boredom in many people. Sometimes just doing something by hand is enough to calm tension and relieve boredom. Explore different types of fidget toys that can help you stay focused throughout the day.
What is a fidget toy?
Fidget Toys are objects that can be given to children to regulate their needs for motion and touch. This increases his ability to remain calm, focused, and alert. Fidget toys provide children with a less distracting and socially appropriate place while focusing on the task at hand (e.g. listening to a lesson in class, paying attention to a book during a circle).
Fidget toys help children filter out excessive sensory information around and within their own bodies that can distract them by directing all their energy and focusing attention precisely on the toy in their hands.
Which fidget toys are popular among people?
Fidget toys are much more popular among children and teenagers.
While this toy may seem like something kids get bored quickly as it is quite simple and repetitive, its popularity is steadily increasing.
The proof can be provided by selling on Amazon, but perhaps more importantly by its cultural relevance to a younger generation platform like TikTok.
Why are fidget toys so popular?
The newest toy to explode, the pop-up toy, baffles parents around the world because it's basically silicone bubble wrap. Even though it's only used to press a button back and forth, it's currently the 6th on Amazon's best-selling toy.
There is some discussion that Fidgets toys can help people with ADHD or people with autism, but research so far is inconclusive.
So what's the appeal of this seemingly ordinary toy? Are people more fidgety than ever, or do fidget toys fulfill a need that many children (and adults) already have?
What is the purpose of fidget toys?
The uses of toys are as varied as the shapes and colors available, and are often used beyond their intended purpose.
The main value of the fidget spinner is spinning, and more experienced users can develop small tricks like jumping from one thumb to the other. But a new trend on TikTok shows kids (and adults) sticking a different colored pen through each hole and then twisting it to create the perfect rainbow circle.
So are these fidget toys really amazing or just part of a trend?
According to Scientific American, chaos existed long before freaks appeared. If you've ever clicked a pen or fiddled with your fingernail on a keyboard, you've improvised an element of your own.
Many people report that it helps them maintain or improve focus during long tasks, or to be attentive in meetings when they mess up something.
Similarly, other adults say that restless moths, stress balls, and other restless options provide some relief from anxiety and can help them calm down.
How can fidget toys help?
Here is a list of ways fidget toys that can help control anxiety:
Improve focus and concentration: Research has shown that people with anxiety can control or direct their movements, which also improves focus and focus. Movement and sensory input can be vital for learning and performing tasks because they require people to use both the right and left hemispheres of the brain.
In addition, various cases confirm that fear and learning can be controlled with toys. For example, a study focused on the effects of Fijian toys found that students who were given stress balls improved their academic performance, especially students with ADHD.
Similarly, another study found that fidget toys can help patients relieve anxiety before surgery.
Serve as a bit of a nuisance: Fidget toys act as minor distractions that can increase focus and productivity, to calm your child's mind and reduce attention.
Has a calming effect: While anxiety, stress, and other disorders like ADHD can affect the entire body, they primarily affect the hands and fingers. Anxiety attacks can include numbness, restlessness, tremors, and convulsions. While spinning toys are not a cure for this problem, they can calm your child because noise itself is a calming mechanism. Fidget spinners and dice give kids a way to keep their hands busy.
The main concern of parents and teachers is that toys with fidget can distract from important lessons. However, it's important to note that the symptoms of anxiety, stress, or disorders such as ADHD can be just as, if not more damaging, and more harmful to a child. Fidget toys can be a bit of a distraction that kids can take advantage of; This, in turn, can lead to increased concentration and concentration, thereby increasing learning and productivity.
In general, Fijian toys can be very helpful in controlling symptoms of anxiety, stress, and other mental disorders. The repetitive motion of turning, clicking, or rolling a toy can also improve focus and productivity by helping you relax.
The benefits of fidget toys
Children and adults can relieve stress and anxiety by keeping their hands busy with sensory toys. The science behind this is what researchers call "embodied self-regulation," which is a fantastic way of saying that we use exercise to control our emotions and attention.
People can do small things or make small changes to affect their experience in the room they are in. Some people wear headphones in the office, others like to work at a standing desk where they can move around a bit. All of these are examples of manifested self-regulation.
While fidget toys for people with ADHD or the autistic spectrum may not have clinical use, they are definitely a harmless and useful way to calm people down.
Different kinds of fidget toys
Fidget spinner
Fidget spinners quickly became the most popular carousel toy during the spinner craze a few years ago. It's fun to manipulate and visually pleasing, which comes in handy when dealing with fidget toys. These toys may disturb others, so they are not allowed in school.
The Fidget Spinner is a small device that fits in the palm of your hand.
They can be slightly larger than the palm of a child's hand, but are still small. The fidget spinner has a ball bearing you can use to spin it around your finger or fingers. The toy is gaining momentum, which can please the senses.
You take the toy in half and twist it between your fingers.
Pop It Fidget toy
Its Pops — also known as Crazy Poppers, Crazy Snaps, Push Pop Fidgets, and Bubble Pop Fidget Toys — come in a variety of colors, shapes, and sizes, and are simple, reusable sheets of silicone. Children press "bubbles" to hear a small popping sound, and when all the bubbles "pop" they can flip the toy over and start over.
Stress ball
A stress ball is a small round object filled with something malleable. The stress ball sits perfectly in the palm of your hand. When you squeeze the ball, it helps reduce anxiety as well as relieve stress. They can also increase blood flow, which is good for your body in many ways.
This increases oxygen supply to the heart and brain. You can easily make your own stress ball, which allows you to change the ingredients inside. You can even write a custom message on the outside of your stress ball.
A special message on a stress ball can be a useful boost for you or your child. Changing the texture of the touch ball can produce different reactions for you or your child. These balls will fit in your pocket and won't make a sound when you push them.
Some can be fully stretched and withstand the violence your child can cause. It's perfect for DIY fidget toys. This sensory toy is easy to make for your child.
Putty
Putty is often used to strengthen fine motor skills; This is a great fidget toy. It can also be called a crushing screed. The only drawback is that it has to be used on a table. It should not leave any stains or smudges as it is non-greasy.
This is more useful when you have a hard surface. It is useful for stress relief, as well as entertainment for adults and children. The screed is malleable and soft, which makes it feel softer compared to the harder layers of other toys. There are many different types of screeds, some of which glow in the dark.
Tangle
Tangle is a great tool for fidgeting because there are no small parts. There is no complicated construction in it. This toy is ideal for the three of them and up.
The knitted fabric can be pulled and pushed. It is always in motion and seems to be moving in a new direction all the time. Despite the constant movement, this doesn't create much of a distraction.
Knits are available in a variety of textures to please everyone. It can be made of hard plastic or have a more gel-like surface. This toy is perfect for busy people who are restless. This can help soothe tired joints and fingers from overwork. Soothing your joints is useful for those who spend a lot of time writing or talking on the phone. This toy is easy to clean.
Koosh ball
The Koosh Ball is the ideal toy for those who love tactile stimulation. There's a lot to feel. It doesn't make any noise and can be easily stored in a bag.
The Koosh Ball consists of many rubber threads wrapped around a steel core. The filament is made of natural latex and the color is non-toxic. This fidget tool is easy to grip and hold.
Restless cube
There are several types of fidget cubes that you can find in the market. They come in various sizes and shapes. There's bound to be something for you or your child.
Some fidget cubes have buttons that you can press, click, or rotate. This type of cube has different parts that move when you push it. Buttons are available in various shapes and sizes.
These cubes tend to make clicks which can be distracting or distracting. They may not be perfect for the classroom. There is another version of restlessness that makes no sound. It is more discreet and can be found in the palm of your hand. It is constantly moving and taking different forms. There are no buttons, but the cube itself can be turned and folded into different shapes.
Squeeze the key chains
A key squeeze is similar to a key chain in that it can be attached to a backpack or belt clip. This toy has something inside that pops out if you press it quickly. Pressing a key fob like this is a great way to get comfortable.
Stress Fidget
There are many types of stress widgets available. They are usually made up of an elastic material that looks like a tube. They can be stretched several meters. You'll start at about 11 inches. They can be twisted, pulled and wrapped around your fingers. They close easily and are easy to put in your pocket or bad. They are not overloaded and do not make noise. This elastic restlessness does not bother others.
Hedgehog ring
The hedgehog ring is a ring with spikes. They can be worn on the wrist. You are crushed. Although these rings are made of plastic, they do not contain BPA and are easy to clean in the dishwasher.
Fidget pen
There are many types of pens. They are great sensory toys because they serve more than one function. This is a pen and touch tool. You can use this toy to overcome your stress and anxiety. You have many options, such as rolling the ball, dipping, and clicking, to help relieve sensory needs. It is the ideal sensory stimulation for older children.
Chewing toys
There are many different options for chewing toys. They are designed to help children maintain focus and awareness while providing verbal sensory data. It may help improve mouth guard in children with oral hypersensitivity. There are gummies for autism, chewing tubes, and oral motor devices, to name a few.
What to look for fidget toy
Not all fidget toys are created equal. From stress balls to carousels, different toys offer different potential benefits. According to an article in Scientific American, therapists recommend toys that require tactile and visual attention — especially in the classroom. Fidget spinners require hand-eye coordination, which can distract from the task at hand, while toys like Fidget Cubes offer a variety of tactile sensations. These toys are better for use in the classroom as they will not distract the teacher or attract the attention of other students.
Stimulating the tactile system can help improve sensory processing along with associated emotions and behaviors. For example, children and adults who have differences in sensory processing often require higher levels of sensory input. Tactile tools for fidgeting are very useful for these people. Some research suggests that playing with such toys can help teens with behavioral and emotional problems and learn to calm down and control their impulses.
We all work differently in different situations. Some people need complete silence to focus, while others find it more productive with less background noise. If you or your child is nervous, anxious, or unable to focus on a task, try a toy. You may find that doing something by hand allows your mind to focus more fully on the task at hand. You can view our selection of widgets here.
How much does a fidget toy cost?
In general, there are many fidget toys available for less than $20. Keep in mind that they can wear out over time, so it's probably not worth spending on something that changes frequently.
Conclusion:
Fidget Toys is a toy that is widely used all over the world and can be used like many other things, many life hacks, losing anger, stress, fear make your arm muscles stronger and much more. In fact, these trends are unpredictable. You never know what the next big thing will be and when it will be gone. Pop went viral overnight when a kid recorded it on TikTok and no one knows how long this trend will last. While it's trending, it's up to you whether you want to join in or wait for it to go away.
If you've never used a fidget toy before, consider Scione Fidget Spinners (see Amazon) as they are inexpensive and relatively easy to use.
Purchase on amazon.